Writing and the Body in Motion: Awakening Voice through Somatic Practice
Based upon my practices as a dancer, writer, meditator, healer, and teacher, I've developed an innovative approach to developing body awareness with a focus on achieving self-discovery, well-being, and integration through movement, mindfulness and writing. Written from a holistic (rather than dualistic) view of the mind-body problem, discussion and exercises draw on dance, psychology, writing, neuroscience and meditation to guide personal exploration and creative expression.
This book is based on my Writing From the Body workshops.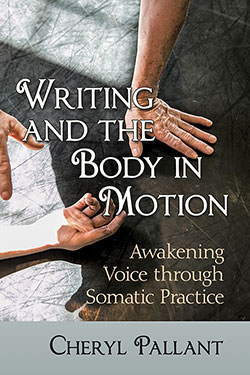 Book forthcoming Spring 2018!
What is a Writing From the Body workshop?
Writing From the Body relies on our physical self to generate writing and heightened awareness.
Attend if you're blocked in an area of your life, want to develop your creativity, and yearn to connect with your authentic self. Attend to jumpstart your writing, to create and renew, to increase somatic awareness, to heal. Attend out of curiosity or to surprise yourself.
All skill levels are welcome. Learn more.
What is included in a workshop?
Workshops are individually tailored to the needs of various size groups.
What are participants saying?
"Hidden deep in our muscle and bones and in every living cell of our physical selves rest unexplored imagery, metaphor, and language. Cheryl sagely guides writers to these far-away-inside-us places. She helps us gently awaken and befriend the sleeping dragon of our physical imagination."
Gigi Amateau
"Writing From the Body is creativity at its best. Cheryl offers a process-oriented format that invites opening, flow, and deepening to ourselves and others. She has a delightful, whimsical, and lighthearted way of teaching that is nourishing."
Lisa Brown
"I seek ways to release the creative impulse behind the moves that my body makes. Writing From the Body gave my over-active mind the permission to truly go with the flow. Now, when I need inspiration to write, I can move first and when I want to move, I can initiate that with writing. As Cheryl says, 'Words have vibration.'"
Margaret Leighty
Interested in attending a workshop based on this book?
Contact me below to learn more about my next Writing From the Body workshop.