Contact Improvisation: An Introduction to a Vitalizing Dance Form
In most forms of dancing, performers carry out their steps with a distance that keeps them from colliding with each other. Dancer Steve Paxton in the 1970s considered this distance a territory for investigation. His study of intentional contact resulted in a public performance in 1972 in a Soho gallery, and the name "contact improvisation" was coined for the form of unrehearsed dance he introduced. Rather than copyrighting it, Paxton allowed it to evolve and spread.
In this book I draw upon my own experience and research to explain the art of contact improvisation, in which dance partners propel movement by physical contact. They roll, fall, spiral, leap, and slip along the contours and momentum of moving bodies.
The text begins with a history, then describes the elements that define this form of dance. Subsequent chapters explore how contact improvisation relates to self and identity; how class, race, gender, culture and physiology influence dance; how dance promotes connection in a culture of isolation; and how it relates to the concept of community. The final chapter is a collection of exercises explained in the words of teachers from across the United States and abroad.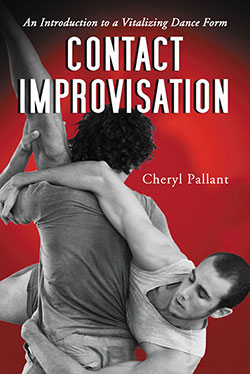 Buy Contact Improvisation: An Introduction
Contents
Chapter 1, "The Creative Body: Source of a New Form"
Chapter 1 is devoted to the history of contact improvisation. Originating as a dance experiment at Oberlin College in Ohio in 1972, contact improvisation (CI) was presented for the first time by founder Steve Paxton in New York's Soho. He attracted the attention of fellow dancers who would prove instrumental in sharing the dance with colleagues and eager newcomers. This chapter charts the groundwork which gave birth to the dance, identifying influences and naming several key players like Nancy Stark Smith.
Chapter 2, "The Practicing Body: Contact Improvisation Fundamentals"
Chapter 2 lays out the principles that distinguish CI from other types of dance. Elements providing stylistic consistency include being guided by the contact point, remaining present, establishing centeredness, and following momentum. These elements enable dancers to maneuver around each other's bodies safely and generate an improvisation dance.
Chapter 3, "The Knowing Body: Self and Identity"
Chapter 3 explores ways in which identity is socially constructed and explains how CI helps to disassemble and reconstruct that identity with greater personal authenticity. This chapter addresses the perspective of the body as an object, vulnerable to inscription from a number of sources, and then highlights the importance of sensory awareness and unmediated, lived experience, not preconceived ideas or judgments, as a path to unfolding a more innate knowing and authenticity.
Chapter 4, "The Entitled Body: Politics and Privilege"
Chapter 4 investigates the influence of race, class, gender, culture and physiology on who gets to dance and how these conditions may influence the character of the dance. This section emphasizes the relative freedom of improvisation, CI's egalitarianism, and the radicalness of its non-competitive structure.
Chapter 5, "The Relating Body: Alienation and Orientation"
Chapter 5 examines the substantive exchange that occurs within the shared, intimate space of the dance in a culture that promotes individuality and its unintended by product, isolation. Presenting both a materialist perspective and an energetic one, this chapter exposes how touch makes boundaries porous, evoking a profound sense of connection.
Chapter 6, "The Tribal Body: Creating Community"
Chapter 6 unearths the ramifications of stepping outside social conventions into a counterculture. This chapter details the shared values of this global community, guidelines and decisions it has made, and some of the changes over the years.
Chapter 7, "The Dancing Body: A Teacher's Sampler"
Chapter 7 collects a variety of exercises by CI teachers in their own words. The exercises reflect a few of the varied approaches used by teachers from across the United States and abroad.
Appendix A: Setting Up a Weekly Contact Improvisation Jam
The first appendix describes how to set up and maintain a weekly jam. Read my article "Contact Improvisation: Moving Touch" to learn more about jams.
Appendix B: Resources
Appendix B details recommended reading, videos and websites.
"Fantastic…a book to treasure."
Proximity