Writing From the Body relies on our physical self to generate writing, heightened awareness, and contemplative movement that arises from metaphor, sound, subtle energy, improvisation, and mindfulness. Participants open to creative expression, spiritual connection, and healing using somatic techniques.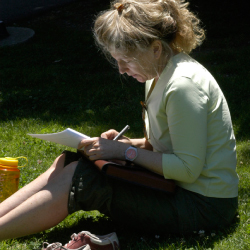 The process bypasses limiting cognitive approaches that lock us into old patterns and instead taps into primordial energy, a free flow of creativity, and renewal. Participants access embodied presence and a deep, resonant expression that aligns with their unique self and well-being. They practice deep listening to tap into synergy and creating work from an alpha state. The result may be poetry, fiction, nonfiction, journaling, performance, healing, insight, and spiritual connection.
Writing, movement, and meditation are all practices of being and becoming. All benefit from a gentle focus, acceptance, and intentionality. Where attention goes, the body follows. When the body softens, the mind comes alive. This aliveness leads to a strengthened connection to the core of being and to a universal consciousness.
* Be inspired
* Write with ease
* Tap into creative expression
* Connect to body wisdom
* Develop mindfulness
* Tune into subtle energy
* Connect to earth rhythms
* Activate a path of healing
* Relieve stress
What Participants Say:
"Writing from the Body is creativity at its best. Cheryl offers a process-oriented format that invites opening, flow, and deepening to ourselves and others. She has a delightful, whimsical, and lighthearted way of teaching that is nourishing." Lisa Brown, physical therapist
"Hidden deep in our muscle and bones and in every living cell of our physical selves rest unexplored imagery, metaphor, and language. Cheryl sagely guides writers to these far-away-inside-us places. She helps us gently awaken and befriend the sleeping dragon of our physical imagination." Gigi Amateau, author
"I seek ways to release the creative impulse behind the moves that my body makes. Writing from the Body gave my over-active mind the permission to truly go with the flow. Now, when I need inspiration to write, I can move first and when I want to move, I can initiate that with writing. As Cheryl says, ' Words have vibration.'" Margaret Leighty, yoga instructor