Writing
I write. I keep writing. The result: a dozen books and numerous articles in print and online, published in the U.S. and abroad. My preferred topics include dance, embodiment, consciousness, mindfulness, and play. When creativity knocks, I answer and the words flow onto the page.
Nonfiction
I've had the great fortune to speak with and write about many great performers such as Merce Cunningham, Kazuo Ohno, Rachel Rosenthal and others. My  books focus on dance, embodiment, radiant aliveness, and my living and working in South Korea.
Contact Improvisation: An Introduction to a Vitalizing Dance Form
This book is my thanks to founder Steve Paxton and co-founder Nancy Stark Smith, who were both my teachers, for creating this groundbreaking improvisational dance, and my wanting to share my enthusiasm about this dance with both dancers and nondancers.
The text begins with a history, then describes the elements that define this form of dance. Buy the book on McFarland Books or Amazon.
Ginseng Tango: A Travel Memoir
Ginseng Tango chronicles my move to the Korean peninsula to teach English, American culture, and dance while going through a divorce. It follows my involvement with tango, Buddhism, shamanism, and acupuncture while dodging death threats from a jealous woman. The memoir reveals my joy and unease as a foreigner while navigating struggles between ancient and modern practices, western and eastern ideals, feminism and Confucianism as North Korea launches missiles. Buy the book on Amazon.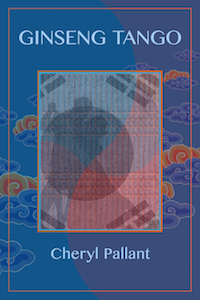 Poetry
More so than any other genre, poetry allows me to experience an ecstasy of written expression and grounds me in Buddhist nondual awareness. Words move me, write me, and take me to mind-altering places.
The famous national document poetically recast through erasure and collage.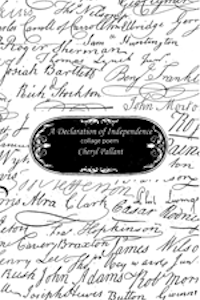 Prose
"Dancing Evolutionary Spirituality," Dance, Movement & Spiritualities. Essay on Zen, Judaism, dance and somatics.
"Write From the Body," The Loft. A blog post about my somatic writing technique taught at The Loft.
"Writing From the Body," All Things Healing. I combine my passions of writing and movement to explore the language of the body through writing.
"Gifting Poetry: Teaching Students to Read Poetry Closely," Teachers & Writers. The essay that led to an award as Bechtel Finalist.
AWP Pedagogy Papers
"Moving Into Writing," Creativity Portal 
Contact Quarterly 
Natural Awakenings  
Journal of Process-Oriented Psychology
ArtsInk
High Performance
---
Anthologies
"Embodying Change," Hope Beneath Our Feet: Restoring Our Place in the Natural World. This anthology asks, "In a time of environmental crisis, how can we live right now?" Other contributors include Alice Walker and Barbara Kingsolver.
An Introduction to the Prose Poem " "Yonder Zongs" A wide range of models and stategies for the prose poetry. Contributors include Margaret Atwood, Russell Edson and Pablo Neruda
"A Declaration of Independence," Letters to the World. An anthology with contributors from Wom-po, The Discussion of Women's Poetry LISTSERV, founded by Annie Finch. A bountiful collection of writers including Camille Dunghy, Eve Enszer, Allison Hedge Coke.
"The Pizza," Food for Thought. Writing about food by contributors such as Herman Melville, Charles Simic, and Marge Piercy.
"A Neighborhood Bar," Inspired by Drink. Writing about drinks by contributors such as Edgar Allen Poe, John Updike, and Daisetz T. Suzuki.
---
Fiction
These are often dream-like, surreal metarealities that in fictive terms tell the truth in their own slanted way. My fiction has been featured in…
"Breakthrough," Cafe Irreal 
Confrontation
Oxford Magazine
"A Touchy Situation," Cafe Irreal
Ambit 
Pleasant Living 
The Crescent Review
Convolvulus
Minds in Motion
The New Rain
"Until Death Do They Part," Gargoyle
---
Reviews of artists
"Torment Relieved in Song," This Land Press: article about poet John Berryman
"Passing Over," This Land Press: reflection on my cat in South Korea
"The Essence of Forever," This Land Press: how I fell in love with the work of T.C. Cannon
Many other artists at Style Weekly
---
Poetry
Women's Studies Quarterly
"Conterminous, Gridded, Deaggregated, and Uncertain," Tarpaulin Sky
Fence 
"Heenayni," No Tell Motel
"Ground in what flows through," No Tell Motel 
"Panting," No Tell Motel 
"Ten or more suggestions," No Tell Motel
"Fear in the Reveal," No Tell Motel 
Cue: A Journal of Prose Poetry
An excerpt from "Into Stillness," HOW2
"Yonder Zongs," Moria
"Freaking Fricatives," Moria
"Entry Steps," Moria 
Homonumous: Magazine D'Avant Garde 
An excerpt from "Uncommon Grammar Cloth," DC Poetry Anthology
NYQ
Sleeping Fish
Lyric
Coe Review
"Blue Poets in a Red State: A Linked Verse," Big Bridge
Wormwood Review