Please pardon our mess. Website maintenance is in progress.
Writing
I write. I keep writing. The result: a dozen books and numerous articles in print and online, published in the U.S. and abroad. My preferred topics include dance, embodiment, consciousness, mindfulness, and play. When the creativity knocks, I answer and the words flow onto the page.
Poetry
More so than any other genre, poetry allows me to experience an ecstasy of written expression and ground me in Buddhist nondual awareness. Words move me, write me, and take me to mind altering places.
Nonfiction
I've had the great fortune to speak with and write about many great performers such as Merce Cunningham, Kazuo Ohno, Rachel Rosenthal and others. My  books focus on dance, embodiment, radiant aliveness, and my living and working in S. Korea.
Fiction
These are often dream-like, surreal metarealities that in fictive terms, tell the truth in their own slanted way.
Contact Improvisation: An Introduction to a Vitalizing Dance Form
This book is my thanks to founder Steve Paxton and co-founder Nancy Stark Smith, who were both my teachers, for creating this groundbreaking improvisational dance,  and my wanting to share my enthusiasm about this dance with both dancers and nondancers.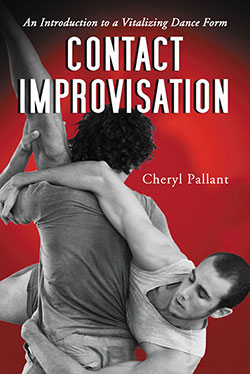 Ginseng Tango: A Travel Memoir
Continental Drifts

Anthologized in …

Introduction to the Prose Poem; Hope Beneath Our Feet; Letters to the World; Food for Thought; Inspired by Drink & elsewhere

Poetry in …

Women's Studies Quarterly; Tarpaulin Sky; Fence; No Tell Motel; Cue: A Journal of Prose Poetry; HOW2; Moria; Homonumous: Magazine D'Avant Garde; DC Poetry Anthology; NYQ; Sleeping Fish; Lyric; Coe Review; Big Bridge; Wormwood Review, & elsewhere

Reviews of artists …

Kazuo Ohno, Pilobolus, Merce Cunningham, Diane Ackerman, Diamanda Galas, Rachel Rosenthal, Urban Bush Women, and more

An Introduction to a Vitalizing Dance Form Poetry by ChocolateThe Phrase

Declaration of IndependenceFiction in …

Confrontation; Oxford Magazine; Cafe Irreal; Ambit, Pleasant Living; The Crescent Review; Convolvulus; Minds in Motion; The New Rain, Gargoyle, & elsewhere

Prose in …

Dance, Movement, & Spiritualities; Hope Beneath Our Feet; Teachers & Writers, All Things Healing; AWP Pedagogy Papers; Creativity Portal; Contact Quarterly; Natural Awakenings; Style Weekly; Journal of Process-Oriented Psychology; ArtsInk; High Performance, Shamans Drum & elsewhere

 Most Recent Publications …