I offer one-on-one sessions in energy medicine that blend Healing Touch, Reiki, and intuition. Healing Touch and Reiki are energy therapies that use gentle hands-on and hands-off techniques that clear and strengthen an individual's body and biofield to promote well-being and radiance in body, mind, and spirit.
Healing takes place when we open to our energy and welcome the fullness of our being. When energy flows, our emotional, intellectual, and physical self finds balance. From a place of balance and wholeness, we are able to access our vital, healthy, and expressive self. Blocked energy can manifest as being tired, depressed, or prone toward colds. If the energy is blocked for too long, a more debilitating illness can result.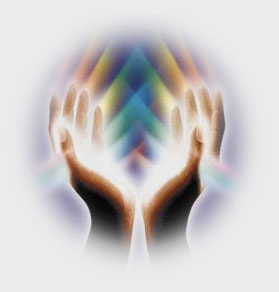 Use Energy Healing to Effectively
reduce and eliminate pain, anxiety, and depression
alleviate symptoms and uproot the cause of debilitating illness
 establish deep calm and centeredness
improve vitality and well-being
strengthen the immune system
prepare you for surgery and accelerate recovery after surgery
redirect energy to support healthy choices and a balanced life
Hour-long sessions involve setting an intention for your well-being and determining a treatment that fits your need. You lie clothed on a massage table and relax. Most individuals report a significant increase in their sense of peace and reduction in symptoms after one session. I have successfully treated a range of ailments such as migraines, depression, stress, surgery recovery, cancer, attention-deficit disorder, PTSD, concussions, snake bites, and a range of chronic and mental illnesses.
I received certification in Healing Touch from Healing Beyond Borders and in Reiki from Usai System of Natural Healing. I also draw upon decades of meditation, natural born intuition, and somatic training.
You deserve to feel your best.
What Clients Say:
"I can't say enough about my session. Relaxed? I didn't know what degree of relaxation was possible. The chronic pain in my ankle from a fracture is entirely gone."  — Mary A.
"Cheryl is a treasure. She exudes calm. I struggle with depression. Since receiving Healing Touch, my dark days are fewer and less dark."  — Anne L.
"My sister urged me to see Cheryl. I was a non-believer in this energy nonsense, a skeptic to the core. Now I'm a regular. I gladly invest in my health." — Andy G.
Contact me to schedule a session at The Wellness Space, my Richmond VA office. Distance healing is also available. Your health and well-being is a priority.
Fees are based on a sliding scale.