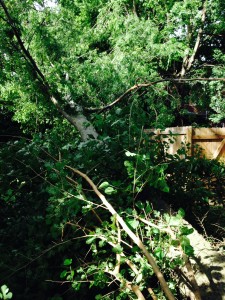 A 30 foot tall tree fell across my yard after an intense wind storm recently. No more shade. No more home for birds, squirrels, and insects. As its broken branches stretch over dirt and leaves wilt, I mourn this once reliant neighbor. All things change, I am reminded. The challenge is to find opportunity and uplift with every shift, regardless of an initial appearance as a welcome event or not.
While I call tree removal specialists and vision the yard with more sun, Donna Harmony Jones, a holistic nurse, contacted me from Florida to participate in a Blog Tour. The writing had fallen away for a few days, slipping from the foreground of my mind to the mangle of branches and electric and phone wires. Before the chain saw sinks its teeth into the felled, I write.
Below are the questions being passed from writer to writer and my answers.
What am I working on?
I'm working on getting Healing Touch certification. Most folks take three years or longer to complete the classes, papers, research, projects, and 100+ client hours. My hands and curiosity put me in a fast track with a strong possibility of being certified in two years by this December. I'm documenting the development of my healing hands through poetry and came up with the prompt, "Her body listening…" The line is inspired by Susan Griffin's moving poetic book, What her Body Thought, a powerful and intimate memoir about social issues and struggle with illness.
Writing from the point of view of "her" frees me to tell the story of a woman, not only me, but one of my imagining, a she who may rise from bed with a nest of Chicadees in her hair. What is possible, I ask frequently, when one cultivates a deep energetic sense of listening? How does the horizon, the backyard, and understanding change?
Learning Healing Touch is about developing techniques that support sensitivity toward bodily and energetic sensation and intuition. Poetry enables me to close in on the truths of breath and expression better than in prose or another medium. Healing, like writing poetry, allows the fullness of being to unfold. In allowing, the flow of expression can access all parts of self, be it for creative ends or health. All systems go. All systems flow. In balance.
Here's an excerpt from the writing:
Look
where
I ocean
I sky
I earth
How does my work differ from others of its genre?
To my writing I bring decades of body and meditative awareness. My grammar, syntax, and subject reflect my kinesthetic sensibility. My lines allow for shifts in perspective, associative leaps, and changes mid sentence. My poetic understanding presses through layers of flesh to generate writing that is often pliant and lyrical and offers a somatically inspired honesty not achievable elsewhere.
Why do I write what I do?
I have little choice. I must write. I must dance. I must meditate. Perhaps not as strong as a need for water, expression is pivotal to my well being. Expression ignites my spirit and puts me in touch with the pulse of body and breath and spirit. It sustains my inner world with the outer world. How I treat my body is no different than how I treat a tree or stream or bee or stranger. With respect. With curiosity. With awe. With an awareness of beauty.
How does my writing process work?
The approach differs for every project. Prompts include a passage from a book, dancing, meditating, engaging in any of the somatic exercises I've developed over the years, and collaborating with a fellow writer.
I welcome challenge, a deepening, the extension of an image, exploring the power of a chant or stanza. I want the writing to tell me what I don't know and point to what dwells at tree tops or lurks in the interiors of cells. The process is working when my imagination fires into a creative outpour, and awakening and silence unstops into words.
As is. What is. Allowing. Bettering.
I am passing the Blog Tour torch to the following who will also answer the four questions.
Jena Strong is the author of two collections of poetry and prose. She writes about navigating change and seeing what happens when we really wake up, make the coffee, and pay attention. Jena lives in Amherst, MA with her fiancée, writer and creativity consultant Mani Canaday, and daughters, Aviva and Pearl.
K. Lorraine Graham is the author of Terminal Humming, from Edge Books. She has a book forthcoming from Coconut Books that might be called Meta Horror or maybe Bus Kind. Wherever she lives, she lives with a small green bird named Lester Young.
Michael J. Blackwell – Mike of all trades, master of some: polymathautodidact (natch,) teacher, healer, tracker, re-story-er, homeschooler papa, musician, cook, autodidact, carpenter, homestead farmer, embittered writer, feather catcher, egg hatcher, bird listener, tree whisperer, log splitter, bull shitter, story keeper, water bearer, song singer, fire bringer.